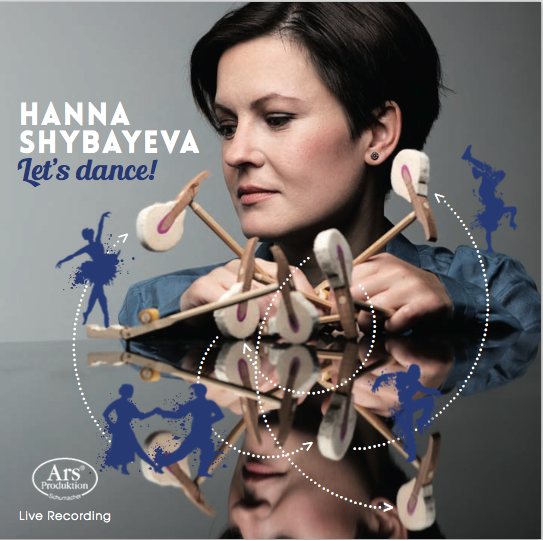 LET'S DANCE! LIVE RECORDING
Hanna Shybayeva (piano)
live recording
Scarlatti, Couperin, Chopin, Debussy, Gershwin, Kapustin


ARS - 38 542
CD (album), 1 disc, DDD
Playing time total 68:27
EAN: 4260052385425
Buy the CD
Description
Usually classical pianists are not willing to take the risk of putting a real live performance onto a recording, because they want to be recorded in a "perfect style". The pianist Hanna Shybayeva was amazed by the concept of the "Studio-Konzert" in the famous Bauer Studios (where already famous Jazz legends like Keith Jarrett and Chick Corea sat down for their recordings). For Shybayeva live performance is the impulse for energy of her expressiveness. On February the 29th 2016 she sat down at the Steinway Grand in the big Studio of the Bauer-Studios in Ludwigsburg as the first classical musician ever and played a rarely extraordinary program. Works of Francois Couperin from his "Pièces de clavecin", sonatas by Domenico Scarlatti, the three most beautiful Chopin Mazurkas, Claude Debussy's cycle "Pour le piano" and the three Préludes of George Gershwin added by the demanding 6th piano sonata of Nikolaj Kapustin. That evening Shybayeva showed the public that she not only can use the energy of the public for high energetic interpretations but also that the element of dance is projected in each corner of music history.
All the pieces have the dance as a musical source, each in it's individual kind of the time when it was written. This is the red line in this program: the dance, reminding the listeners of the roots of music. And this is Hanna Shybayeva's message: Let's dance!
The fact the concert performance was recorded gave the pianist an additional stimulation to enjoy the moment of playing the piano. Beside all this she followed a special sound idea which is missed in nowadays piano recordings most often: direct and close to the instrument, so that with this recording one is able to get the live performance feeling and can really bring it into ones living room.
Repertoire
Domenico Scarlatti (1685–1757)
Drei Klaviersonaten
1 Sonate D-Dur K 96 5:25
2 Sonate h-Moll K 87 6:12
3 Sonate D-Dur K 29 5:43

François Couperin (1668–1733)
Aus: Pièces de clavecin – Troisième Livre
4 Sœur Monique 3:10
5 Les fauvettes plaintives 4:47
6 Le tic-toc-choc 2:31

Frédéric Chopin (1810–1849)
Drei Mazurkas
7 op. 59, 1 - Moderato 3:28
8 op. 59, 2 - Allegretto 2:27
9 op. 59, 3 - Vivace 3:17

Claude Debussy (1862–1918)
Pour le Piano
10 Prélude 4:09
11 Sarabande 4:52
12 Toccata 4:13

George Gershwin (1898–1937)
Drei Preludes
13 Prelude I 1:37
14 Prelude II 3:33
15 Prelude III 1:16

Nikolai Kapustin (* 1937)
Klaviersonate Op. 62 Nr. 6
16 Allegro ma non troppo 4:57
17 Grave 3:52
18 Vivace 2:50