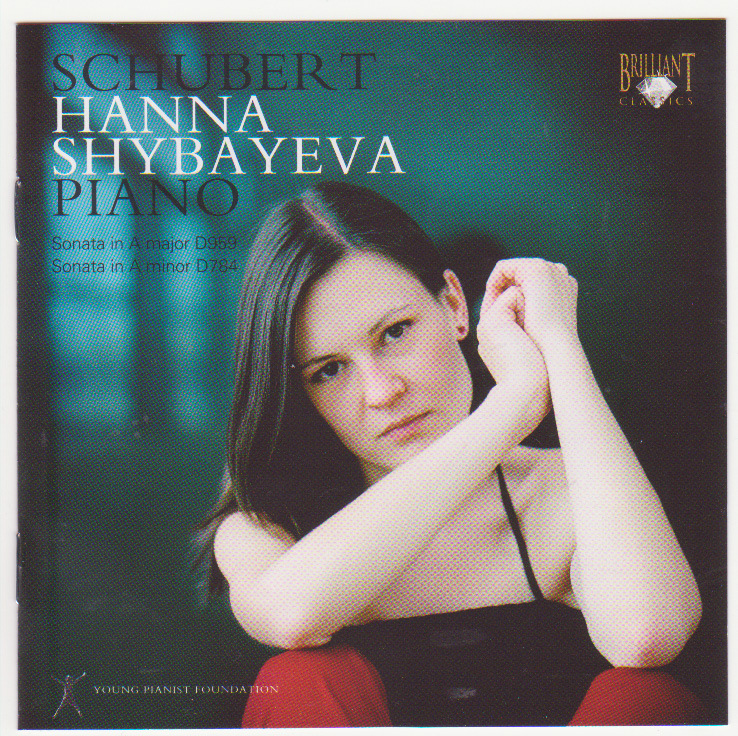 SCHUBERT
Hanna Shybayeva (piano)

Sonata in A-major D959 op. posth.
Sonata in a-minor D784 op. 143

2008 Brilliant 93913 • 1CD - 5028421939131


Buy the CD
American Record Guide, CD review:
The Andantino of this sonata, calling for subtle contrast between dynamics, is felicitously handled, with very clear delineation. The central section is a wild outburst and quite a surprise in Schubert's music. The contrast is all the more pronounced when the pianist is able to supply real hushed playing in the music preceding it. The ensuing Scherzo begs for a more brusque playing style than what has gone before and is given it. The Trio section serves as a nice contrast, but this is a more conventional movement where subtlety is not a prime factor.

In the long Rondo concluding the sonata, Shybayeva, freed from the shackles of unhappy thoughts, sets forth on a journey of clarity and high spirits. Once again this mostly gentle music is phrased so beautifully it might draw tears from some listeners. The Sonata in A minor, D 784, was completed in 1823. It is not a happy work; on the contrary, it is full of anguish and among the bleakest of his compositions. It is also most deeply felt, and Shybayeva realizes this to the fullest. The opening Allegro Giusto and ensuing Andante are taken slightly slower than usual.

The composer's argument is mesmerizing in these able hands. The short slow movement offers slight relief from the intensity, but the frigid wind returns in the final Allegro Vivace. I had to revisit several other performances to verify if all was really as good as heard. It was, and since performances of this caliber don't grow on trees, it would be a wise collector who gobbles this one up without delay. The recording is outstanding, and the low price is an added incentive.
Franz Schubert
Sonata in A-Major D959 op.posth
Allegro
Andantino
Scherzo: Allegro vivace-Trio: Un poco piu lento
Rondo: Allegretto
Sonata in a-minor D784 op. 143
Allegro guisto
Andante
Allegro vivace
Total playing time: 67:23