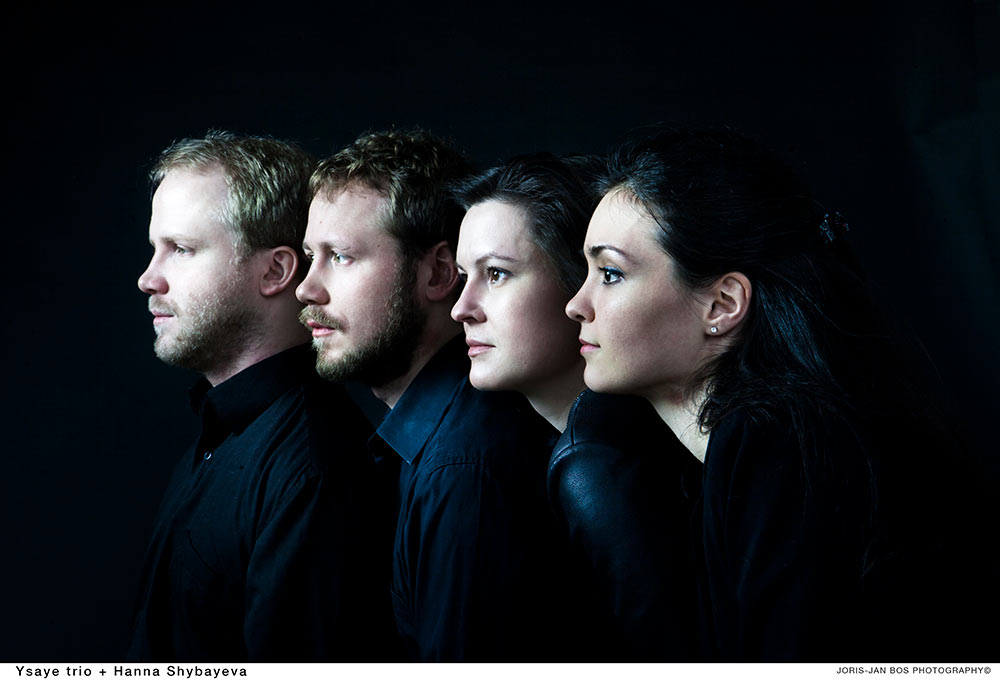 Symphonic Intimacy
Rada Ovcharova (violin)
Emlyn Stam (viola)
Willem Stam (cello)
Hanna Shybayeva (piano)
Ysaÿe String Trio
Symphonic Intimacy
Home-concerts have always been an important tradition in classical music. During the time of Mozart, Beethoven and Chopin, for instance, concerts in the intimacy of the salon were just as important as those in renowned concert-halls. Well known musicians as well as amateurs came together to play chamber-music, which at the same time also offered composers the opportunity to gradually introduce their new compositions.
Bookings & further information
During the late-classical and early-romantic period it was quite common for composers to arrange their own works for smaller ensembles. Mozart, for example, arranged many of his piano-concerto's especially for piano and string-quartet (he called these "Kammer-Konzerten"), and wrote enthusiastically about it to his father, while Beethoven also arranged his own work quite regularly for smaller ensembles. Mendelssohn performed his first pianoconcerto and concerto for violin & piano together with his friends at a "Sunday-morning home-concert", and on the title-page of the first edition of Chopin's piano-concerto's it says: "Concerto pour le piano avec accompagnement de l'orchestre ou avec quintuor". In fact, Chopin performed his piano-concerto's more often with a quintet than with a large orchestra.
 
For a long time, such intimate symphonic home-concerts have played a very prominent artistic and social role, a function which was well maintained until after the second world-war, when this tradition disappeared from the concert-scene.

In this series, I try to create an original atmosphere, reverting to the "salon-concert" culture of those times.

Hanna Shybayeva
Beethoven Eroica Mov 1
Beethoven Eroica Mov 3
MahlerSymphony No 3 Mov 2
MahlerSymphony No 3 Mov 3
D.Shostakovich - Preludium and Fuga in b op.87 nr.6

A.Schnittke - Pianoquartet

J.S.Bach - Pianoconcerto in d BWV 1052

D.Shostakovich - Pianoquintet op.57
1810-2010 Tribute to Chopin, Schumann
R.Schumann - Faschingsswank aus Wien op.26 (piano-solo) Piano Quartet op.47 in E-flat - intermission - F.Chopin - Mazurka op.50 nr.3 (piano-solo) Piano concerto op.22 (arr. piano, string quintet)
F.Schubert - "Forellen-Quintet"

L.van Beethoven - Piano Concerto op.58 nr.4 (arr. piano, string quartet)
J.Brahms - Pianoquartet in g op.25

L.van Beethoven - "Eroica" Symphony op.55 (arr. F.Ries)
N.Hummel - Trio for piano, violin, cello and flute

W.A.Mozart-N.Hummel - Piano Concerto nr.20 in d (arr. piano trio, flute)

W.A.Mozart-N.Hummel - Symphony nr.40 (arr. piano trio, flute)
Haydn - Piano Trio in C No. 43 Hob 15/27

L.van Beethoven - Piano Sonate "Les Adieux" op.81a

L.van Beethoven - Symphony nr.3 "Eroica" (arr. piano quartet)

A.Schönberg - "Ode for Napoleon Bonaparte" op.41 (piano quintet, reciter)
2013-Tribute to Rachmaninov
S.Rachmaninov - Selection from Etudes-Tableaux op.33 and 39

D.Shostakovich - Piano trio op.8 nr.1

S.Rachmaninov - Piano trio "Elegiac" nr.2
Schubert, Mozart, Beethoven
F.Schubert - Triosatz (string trio) D471

-W.A.Mozart - Piano Concerto nr.9 (arr. piano, string quartet)

L.van Beethoven - Symphony nr.3 "Eroica" (arr. piano quartet)
1810-2010 Tribute to Chopin
C.Debussy - Piano Trio in G (1879)

G.Faure - Piano Quartet Nr.1 op.15 in c

F.Chopin - Scherzo op.20 nr.1 (piano-solo)

Piano Concerto op.11 (arr. piano, string quintet)
L.van Beethoven - String Trio op.9 nr.2

Piano Concerto op.15 nr.1 (arr. piano, string quartet)

J.Brahms Piano Quintet in f